Success of a company, of a product or a service is harder and harder to settle in a long term position because economic environment is unstable.
Therefore innovation is the solution to face the environment evolution.
The company "Burny Consulting" can intervene in the following types of innovation modes :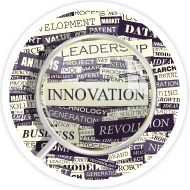 Burny Consulting can assist you throughout the process of innovation, market study, choice of materials, choice of technologies, testing, prototyping, certification, industrialization, research grants, etc...